"

Chris Jones' voice is there with the great masters."
— Steve Martin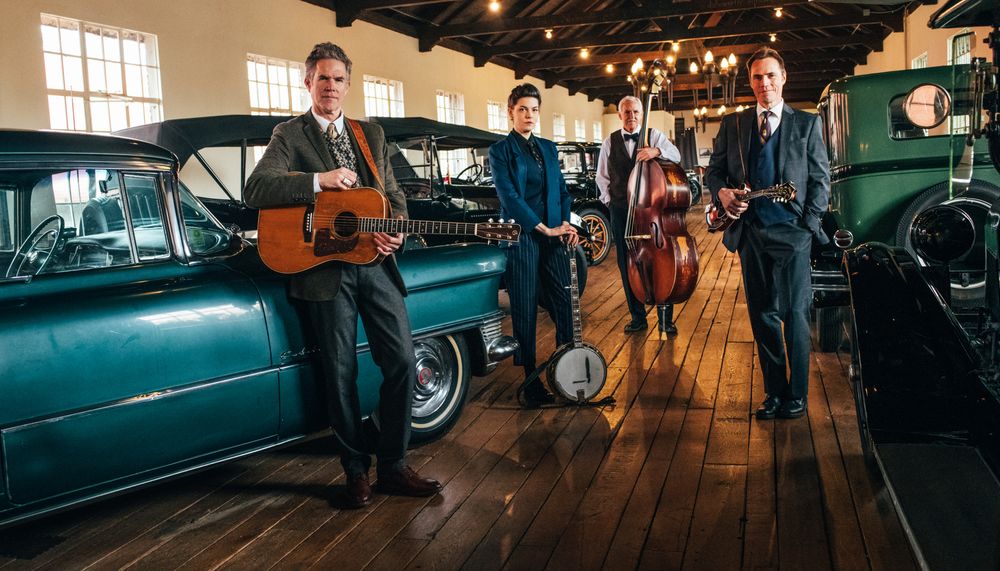 Bio
https://www.youtube.com/watch?v=7TnWTpXWtZU 
Chris Jones & the Night Drivers 
A Well-Established Band with a Brand New Look! 
"When I first heard Chris Jones over 25 years ago he became one of my favorite singers, and he continues to have one of the most distinctive and best voices in music, period. It's like fine wine for the ears." —Jim Lauderdale 
Chris Jones & the Night Drivers make some of the most distinctively elegant yet driving bluegrass music heard anywhere today. Deeply rooted in tradition but never bound to it, they deliver original music with tight arrangements, emotional authenticity, and engaging humor. As actor and banjo player Steve Martin says, "Chris Jones' voice is there with the great masters," adding that the Night Drivers are "some of the best players in bluegrass."
Collectively, Chris Jones & the Night Drivers have won 11 IBMA awards and have racked up 22 #1 songs. The band's latest release, their first all-original album, Make Each Second Last, has received rave reviews and has so far yielded an unprecedented eight consecutive #1 songs, including the title track "We Needed This Ride." Their song, "Riding the Chief," co-written by Chris and Thomm Jutz, was nominated for 2022 IBMA Song of the Year. They have topped both the Bluegrass Today and Roots Music Review airplay charts with the latest album.
In July of 2022, they made their debut on The Grand Ole Opry.
Chris Jones & the Night Drivers are currently signed to one of bluegrass music's top record labels, Mountain Home Music Company, for whom they've recorded four critically acclaimed albums. 
A well-established band formed in the mid-1990s, Chris Jones & the Night Drivers have become popular repeat performers at major festivals like Merlefest in North Carolina, California's Huck Finn Jubilee, and the Walnut Valley Festival in Winfield, Kansas. They have filled a wide variety of venues around the world, touring across the U.S. and Canada, and all over Europe, including Germany, Switzerland, the Czech Republic, and Ireland. Together with the band and as a solo artist, Chris has released 14 albums and racked up 19 #1 songs.
THE BAND: 

Chris Jones' soulful singing, solid guitar skills, and impressive versatility have earned him the respect of some of the best musicians in the world, and he has performed and recorded with the Chieftains, Earl Scruggs, Vassar Clements, and Tom T. Hall. Chris has appeared on the the Grand Ole Opry with Laurie Lewis, Lynn Morris, and the Whitstein Brothers, and began his career with bands as varied as Special Consensus, Dave Evans, and Weary Hearts. 
With his warm sense of humor and deep knowledge of country and bluegrass music history, Chris is also a popular host on SiriusXM's Bluegrass Junction and Willie's Roadhouse channels, making him one of the most widely heard broadcasting voices in bluegrass. He was named IBMA Broadcaster of the Year for the third time in 2022. And, in his spare time, he writes a hilarious and award-winning weekly column for Bluegrass Today. 

Mark Stoffel is "one of the most musical mandolin players I've ever played with," says Chris. Mark's rhythmic sense and warm tone help to define the band's instrumental sound, and Chris adds, "mandolin players are really impressed with his playing everywhere we go." Originally from Munich, Germany, and a Night Driver since 2007, Mark has contributed several lively instrumental tunes to the band's repertoire. He also delights audiences with his sweet rendition of "Edelweiss"—one of the few Broadway show tunes that really lends itself to mandolin. 

Marshall Wilborn is one of the most respected bass players and songwriters in bluegrass, with a long list of songwriting credits including Alison Krauss' "Heartstrings," Doyle Lawson's "Mountain Girl," and Rhonda Vincent's "Wishing Well Blues." Marshall and Chris have a long history, having performed together in the Lynn Morris Band and as members of Whetstone Run. Marshall is also well-known for his years with the Johnson Mountain Boys, Longview, and Michael Cleveland & Flamekeeper. His rock-solid rhythm and inventive but tasteful solos have earned him the IBMA's Bass Player of the Year award four times, and his engaging vocal style and talent for harmony singing add a new dimension to the Night Drivers' sound. 

Grace Van't Hof is a founding member of the Grammy-nominated group Della Mae, as well as a founding member of the popular vintage roots music band Bill & The Belles. Her driving banjo style is influenced by early masters Earl Scruggs and Don Reno, as well as more recent players like Ron Block and Jim Mills. As a self-described "songwriting geek," Grace focuses her playing on what best supports the song. Well-versed in old-time and early country music, she incorporates her ukulele playing into the Night Drivers' repertoire. Grace also loves harmony singing, and her voice blends naturally with Chris' and Mark's. Both her uke, banjo, and harmony singing can be heard on the band's latest single, "We Needed This Ride." 
Every single released by this current lineup of the band--six in total--has gone to #1 on the Bluegrass Today weekly airplay chart.

SONGWRITING: 
Chris Jones' "Fork in the Road" won the IBMA Song of the Year award in 2007, when it appeared on the Infamous Stringdusters' album of the same name. Today, Chris continues to build on his sparkling career by writing new songs that display solid craftsmanship, deep emotion, and inventive subject matter. As he has for the past two decades, Chris creates original bluegrass music that maintains the highest standards, lyrically and musically. He shows that it is possible to write directly from the heart in a way that is authentic to the roots of bluegrass as well as the contemporary world in which he lives. Make Each Second Last is the first band album to feature all material written or co-written by Jones. Bluegrass is fortunate to have such a dedicated, talented, and tasteful songwriter working in the genre, and still at the top of his game. 
# # #
Chris Jones is represented proudly and exclusively by
Katie K Wrangles, LLC
katiekwrangles@gmail.com
616-843-7188